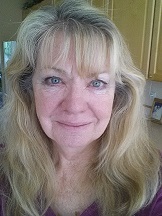 Susan St. Clair
is the creator and founder of Heart Connection Kirtan Community (established in 2006). She has been in love with chanting and kirtan since 1980 after being introduced to daily chanting while living in the Ananda Community in Northern California. " Paramahansa Yogananda was my first inspiration to learn chanting and harmonium. My other wonderful inspirations are Ammachi and Amma Karunamayi and all the devotees of kirtan that I have met along the way.
My first real experience with group kirtan and chanting was in the early 1980s. I was attending a weekend yoga meditation retreat at the Ananda Community in California. We were chanting together with about 20 other guests for about an hour. Following that I returned to my cabin and went to bed. All night long, whether asleep or awake, the chanting continued in my mind. Accompanying the mantras and mental music, was a feeling like a mild electrical current of energy flowing through me. I was literally pulsating with it. The next morning I awoke refreshed, energized and profoundly changed. Not long afterwards I left my job, home and city life and moved to Ananda."
In 1992, Susan moved from the Ananda Community to Ft Collins, Colorado to establish a metaphysical store:
Northern Lights Crystals, Books and Gifts.
She continued chanting and leading kirtan groups.
.
In those days only a very few people in Colorado were interested in chanting and group kirtan. Now, thanks to the popularity of Krishna Das, Jai Uttal, Deva Premal, Dave Stringer and others, chanting has become widely know and popular in the USA.
"The more I chant, the more deeply I love it. If I could, I would hold kirtans everyday. Chanting together in a group creates a deep sense of connection and expansion that links everyone in the group to each other and to our Divine Source. Its like simultaneously having a deep meditation experience and a sublime heart opening experience with a large group of your dearest friends."

In Gratitude
We been touched and inspired by many wonderful teachers. Some are Saints & Avatars, others are musicians, fellow devotees, and friends - all are beautiful souls that have added greatly to our lives. Our Eternal Pranams, Love and Gratitude to all of you.
Paramanhansa Yogananda, Ammachi, Amma Karunamayi, Mother Meera, Anandamoyi Ma, Mt.Madona Ashram kirtan wallahs, Ananda Community of California, and many other great ones along the path.
---